UN-LEVEL SIDEWALK
Over time, concrete sidewalks and walkways can sink. Even a relatively small change in the surface between one concrete panel and another can be hazardous to both adults and children.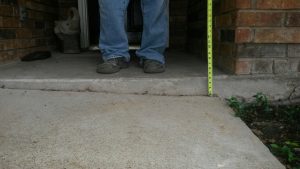 A common solution to repairing sunken concrete is to demolish and replace the entire slab or sections that have settled with new concrete. This method can be costly and time consuming. Polyurethane foam injection offers a cost effective, expedient, and less disruptive alternative.
Hargrave now offers an innovative concrete repair system that involves injecting a polyurethane foam mixture under the concrete. This mixture is extremely dense and sturdy  and will lift the slab back to its original position and fully support it. Polyurethane foam injection is less invasive than traditional concrete repair methods and is environmentally friendly. The HMI polyurethane foam used by Hargrave is made from over 40% recycled materials. That's impressive considering there is absolutely no other poly material on the market that offers that type of reduced carbon footprint.
We Raise and Level
Interior concrete slab foundations
Garage Floors
Uneven & Hazardous sidewalks and walk ways
Driveways
Patios
Pool Decks
Hargrave's construction professionals have the expertise and experience to service all your concrete lifting and leveling needs. With their outstanding commitment to quality work and customer service, you can be sure that you will be completely satisfied with the results.
Solve All Your Concrete Repair Needs! (Both residential and commercial)
Contact us today to learn more about how we can help!
Call today to meet with a professional who can examine your damaged or uneven concrete to determine whether polyurethane foam injection is right for you.